College/University & International School
HOME > Residence > Education > College/University & International School
Universities
Ulsan University
Having started on March 16, 1970 as Ulsan Engineering College, Ulsan University is now the largest university in Ulsan, consisting of 11 colleges and 18 undergraduates, 14 departments, and 6 graduate schools. The university foundation is being run by Hyundai, the world-renowned manufacturer of automobiles and ships, whose aim is to elevate the university to a world-class level.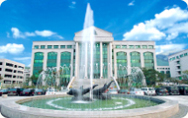 Ulsan College
Having started on April 8, 1960 as Ulsan Industrial Institute, this college was renamed Ulsan College on November 11, 1998. The campus itself is divided into the West Campus, located in Nam-gu Mugeo-dong, and the East Campus, located in Dong-gu Hwajeong-dong. As with Ulsan University, Hyundai also runs the foundation of this college.
address

| West (57 Daehak-ro, Nam-gu, Ulsan), East (101 Bongsu-ro, Dong-gu, Ulsan)

Tel

| West (+82-52-247-6300), East (+82-52-230-0500)

Website

| http://eng.uc.ac.kr
UNIST
Following its establishment in 2009, UNIST became a global science and technology institute within a short period with the vision 'Global Science and Technology Leader Contributing on People's Life'. UNIST will be one of the World Top 10 Universities by 2030 through intensive research on high-tech new materials, bio and next generation energy.
Foreign schools in Ulsan