Bill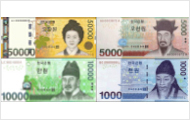 The denomination system of the Korean currency is the [1, 5] system, where there used to be eight denominations (500, 100, 50, 10, 5, and 1 won bills and 50 and 10 cent notes)
until the early 1970s. But the number was steadily reduced to 3 (1,000, 5,000, 10,000 won bills), which is true until the present time. In addition, 50,000 won bill is issued at 2009 after a long interval.
In terms of size, the lengths of these bills are identical at 76 mm, but the width shrinks by 5 mm in a descending order of denominations.
As for color, the 1,000 won bill is purple, the 5,000 won bill is brown, the 10,000 won bill is green and 50,000 won bill is yellow. The visual effect was emphasized with the use
of the multicolor system. Different colors help identify each denomination from other denominations.
With regard to design, the bills issued from 1962, when the 3rd current measure was announced, to 1971, show King Sejong and structures such as the South Gate, the Gate of
Independence and Cheomseong-dae (Observatory), and the emblem of the Bank of Korea (BOK) on the front and the emblem of the Bank of Korea, the Gate of Independence,
the Turtle Ship, and the BOK main building on the back. The bills that were issued during the 1970s, however, had only a slight variation in design, even when compared with
the present. The 1,000 won bill (1975); 5,000 won bill (1972); 10,000 won bill (1973); and 50,000 won bill (2009), used as designs historical figures like Lee Hwang, Lee Yi,
King Sejong, and SinSaImDang on the front, and things related to these individuals at the back.
Coins
The denomination system of coins is also the [1, 5] system, where there were six denominations issued (1, 5, 10, 50, 100, and 500 won), but due to a fall in purchasing power,
1 won coins and 5 won coins virtually disappeared.
As for the design of these coins, various figures or objects that can serve as symbols of Korea were used from the very beginning, such as the rose of Sharon, Turtle Ship,
Dabo Tower, ears of rice, Admiral Sunsin Lee, and crane (1 won, 5 won, and 10 won: 1966; 50 won: 1972; 100 won: 1970; 500 won: 1982).
With regard to the materials used in making these coins, the 1 won coin was made of 100% aluminum, the 5 won and 10 won coins were made of brass (copper - 65%;
zinc - 35%), the 50 won coin was made of nickel silver (copper - 70%; zinc - 18%; and nickel - 12%), and the 100 won and 500 won coins were made of white copper
(copper - 75%; nickel - 25%).